I am a big believer in vacationing (obviously) but I am not a globe trotter who spends weeks on end jetting off to the four corners of the world. My vacations are few and far between. I have had many more staycations than I can count; by the way, those can be fabulous!
Five years ago I was diagnosed with cancer. My first thought was: That doesn't sound right. Many other things ran through my head: How much work will I miss? Will I lose my hair? How will I tell my kids? So I thanked my doctor, we talked about the next steps and then I went home and cried a little bit. Later in the day, I had a thought. I told myself I was going to beat this thing no matter what and when I did I was going to take an amazing vacation. April of 2019 was five years and I was considered cured (Yay!!!) so, time for an true vacation!
Truth be told, I want to visit many places but after talking to my family, all of which helped me tremendously I felt we should go somewhere together. Living in Washington, a flight to Hawaii is not quite six hours and I can take a direct flight. I hadn't seen the beach in a couple of years and I wanted to see the volcanoes, so we went to Kona. The photos in this post are not all mine, some belong to my sister, which I have used with permission.
There are some basic truths you need to know about Kona.
The airport is a smaller one made up of outside buildings, set up in a weird circular pattern  and only has one small cafe; which has delicious smoothies!  It's not close to anything else either, so you need a cab or Uber and most of the hotels don't have airport pick up. We ordered Lyft but you could check out airport transfers. https://www.airportshuttlehawaii.com/shuttles/hawaii/
You need a car if you want to see much. Most resorts have a  concierge who can help you book excursions and tours but even those don't all offer pickups and some need to be planned in advance, at least 3 days depending on the excursion. Several resorts have things to do on site but Kona tourism spots can be fairly spread out. We rented a car to go to Hilo for the Saturday market and to visit the volcanoes and Rainbow Falls.
It's not sunshine 24/7. We were there 6 nights and 7 days and for the most part the weather was perfect, but many afternoons clouds would roll in and hang around a few hours. It rained a few times but never very heavy and it was never a cold rain.
There is no such thing as an all inclusive resort in Hawaii. Food, excursions, transpo, laundry-basically everything you do will cost extra. Places like Mexico and Jamaica are rich with all inclusives but not on the Hawaiian Islands. It is not a thing. Also, there is a Hawaii tax on top of regular resort fees.
Hilton Waikoloa Village
Picking a resort in Kona can be intimidating; they all seem wonderful! We picked this 62 acre resort on Konas' coast for a few reasons: One, it faced the ocean and had a protected lagoon that was good for  swimming and renting boats and other watercraft. Two, the lagoon fed in from the ocean so all sorts of turtles and fish would swim in and could be see easily without renting snorkeling equipment. Another positive for this property is that it was close to 2 different markets where we could buy food, shop, play mini golf, see a movie-the hotel has a trolley that picks up guests and takes them to both places, the cost is $2.00 per person each way. There is a Dolphin Swim Excursion on property and the grill is right next to it and it was so fun to eat lunch and see them swim around and play together! Hint: They seemed to be more active in the morning, so go early.
The resort also has valet that will drop you off at A Bay beach (Anaeho'omalu Bay Beach) an amazing crescent shaped stretch of beach that offers tranquil waters, soft sand, shacks offering excursions and the Lava Lava Beach Club restaurant. For me, the big draws of this resort was the canal that encircles it, the resort offers gondola boats that take you around, the lagoon which I spoke of earlier, all the outside dining venues and giant waterfalls that I could swim under! Bingo! That did it for me. I have always wanted to swim under a waterfall. Waikoloa Village has 3 at the far end of one of the pools and set it up as a whole cave/grotto feel. There is a hot tub in one of the cave-like corners.
Some other big hits for this resort was of course the service, everyone was so great. The boats were being converted to electric as we were leaving and there were so many great pieces of art throughout the whole property so that everywhere I went I saw something interesting. Most of the art was Asian influence but there pieces and artifacts that paid homage to the Natives of Hawaii. Despite its size, walking the property was so easy and seamless. The pools were spread out so I never had to go very far to find a pool or something to eat. So many picture worthy look out points! My favorite spot was just past the Buddha point overlooking the black rocks. If you are lucky you will find an empty hammock. Past the Lagoon there is a path that goes down to the rocky beach that is worth your time.
There are some things about the Village I didn't love so much. Mostly, the food choices. The food itself was very good but the options for such a huge resort make no sense. For breakfast you either eat at the huge and pricey buffet or the small coffee shop that only offers small snacks. Once in a while you can get a waffle or something ($18.00+tax). They has a great grill but it's only open half the day and sometimes there are little stands by the pools but they only offer drinks.  Dinner choices are a little better-italian, mexican, bar food, and a high end restaurant at the far far end of the property. As a guest, you can rent some dvd's for free but the selection made the whole exercise a waste of time. There was an offer for a free photo shoot but I didn't find out anything about that. There is a tram that runs back and forth across the property but it not by any means a quick transpo! It is slow so don't be in a super hurry, if you are-walk!
If I had one other comment about the resort is that I would rent the snorkeling equipment but snorkel somewhere else. All the fish and turtles I could see from the bridge going over the water or at the shallow end or just swam out a little-not worth the money. That being said I would stay at Waikoloa Village again and again. The location, the appeal for families or visitors without kids, the sheer beauty and it's proximity to other places make this property a worthy vacation spot. Oh, and, my personal recommendation, if you like star gazing, the resort has astrologers come in and bring there killer telescopes and we saw the most amazing star formations, galaxy clusters, gas anomalies, some really cool things. The hula lessons were free. See one of the resort concierge for all the things offered at the resort; naturally, you can catch an fabolous luau.
Sightseeing:
There is no end of things to do in Kona, there is no way to cover them all. I went to Kona to see the volcanos. So, we drove to the National Park to see volcanoes. Not only was it pouring rain so hard it was incredibly foggy. We tried to find a clearing, we drove through the park for at least another 20 minutes to no avail. It was disappointing, but nature is nature; you can't get mad about it. The visitors center was a treasure trove of fascinating pictures and videos of the eruptions-I found it captivating. The gift shop offered some spectacular photos and wall art, so it was not a total loss.
On the way there we stopped at Rainbow Falls. It's pretty, for sure, but living in Washington and growing up in Oregon I have seen some pretty impressive falls but what surprised me was the canopy of trees that had tangled together at the top of the falls. The hike up to the top is rocky but not extremely difficult or long and seeing so many huge trees twine together was something I will never forget! I have no idea what kind of trees they were-if you know please tell me!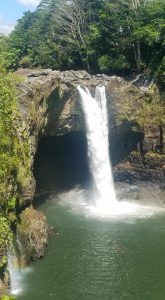 The drive around Kona from one end to other was pretty and we stopped in Hilo for the Saturday Market which I loved! Not too big, but plenty to walk through and pick some great locally grown fruit. The market is outside, jammed close together and crowded, so it was hot! You should still check it out and while you are there. Eat at Pineapples Restaurant, less than a five minute walk from the Market. Everything at Pineapples is fresh, delicious and many of the ingredients are local-even the drinks! The atmosphere matches the menu and the feel of Hilo. https://www.facebook.com/pages/category/Bar—Grill/Pineapples-Island-Fresh-Cuisine-427042824013347/  click on this link for the Facebook page where you can find the address and see the menu.
Snorkeling.
Snorkeling is one of the things I was determined to do on this vacation because on our last one our snorkeling trip was canceled twice. Due to various circumstances I didn't go again but I met a very nice young lady who sent me this great app for finding the best snorkeling spots. https://www.lovebigisland.com/
Not just for snorkeling but for all your plans for the Big Island, this is a top notch site.
Places to Eat:
One of the best experiences of vacationing is the food! Who doesn't love to eat? Food at the resort was astronomical and, as I previously noted, limited in scope, so we ate out at times. One of my favorite places was the Lava Lava Beach Club at A Bay beach. Right on the beach with open air dining, fare of all tastes as well as farm to table options Lava Lava Beach hits it out of the park on all counts. https://lavalavabeachclub.com/
A Bays Island Grill: This venue is very casual and offers some standard fare but there is nothing standard about the food. The best french toast and red potatoes I have ever had.  The grill has a local butter(mango, I think) that blew my mind. They also have a happy hour where I ordered heavenly crab cakes for only $8.00. The Grill is at Kings Market, where they have a beautiful lake, a mini golf place, a place to rent snorkel masks, a movie theater and another must try restaurant Fosters Kitchen. http://www.kingsshops.com/directory
Queens Market is almost right next door and is a larger shopping area that has a Macaroni Grill and I know it's a chain, but I highly recommend eating there! For more local flavors try the daylight mind coffee pub (I love the ambience), Ippy's Hawaiian BBQ or Marble Slab Ice Creamery for some much needed cool sweetness. The store there offers plenty of salads, sandwiches, pastries and even deals on t-shirts and beach towels. https://www.queensmarketplace.net/en/index.php/
We were at Kona for only 6 days and there is so much to this lush paradise I could stay for a month and see it all! Hawaii has so many islands and the Big Island has many rough beaches and black sand but I think that is a positive and I would recommend a vacation for anyone and everyone!
Great Activities to do in Kona:
Visit a coffee farm. Hawaii is only 1 of 2 US states to grow coffee and Kona has the best plantations you can visit. The Love Big Island site I referenced earlier is a superb source for researching this activity.
Go to Koko Head Crater Botanical Garden. Yes, you can visit a botanical garden in the slopes of a crater. It is on the eastern side of the island so you will need a car. This 60 acre loop in the basin of a 200 acre crater is rich with rare and endangered dryland plants, such as African and Madagascar plants. The plumeria grove is always a favorite. Parking is free but there are no bathrooms and no place to get water.
Get your cowboy on! Hawaii is more than palm trees and dreamy beaches, it's also home to working cattle ranches. Beef is a big industry in Hawaii and you can spend a day on a working farm. Many of these tours will couple with a coffee tour.
Go to a tropical rainforest. While the Kona(west side) is great for whale watching, manta ray night dives-a must do, sunny weather and world class golf  a trip to the east side for a visit to a rainforest. Visiting Waimea Valley  and Akaka Falls Loop will afford the best of a lush paradise. https://roadtohana.com/hawaiian-rainforests.php
Enjoy local snacks. Probably the only island that grows vanilla beans, cacao beans and macadamia nuts! Yumm, people, enjoy some Hawaiian deliciousness!
Enjoy stargazing from Mauna Kea Summit. Guides will take you up to summit for a meal, a blow you mind kind of sunset and NASA worthy star gazing. It's not uncommon for the summit to be covered in snow; which would be a great thing to see in Hawaii. https://maunakea.com/
One more note, you could consider  a cruise. Norwegian does a 7 day cruise around all the islands with 2 overnights. You would still have to fly there but it is more inclusive with food and activities. Full disclosure: I am a travel agent and if you book a vacation with me (cruise or otherwise) I could possibly get a commission.
Hopefully, in the not to distant future, I will find myself back in Kona, this time seeing my volcano-maybe you will find yourself there too!
Some interesting facts about the Big Island:
Measuring at 4,038 square miles Hawaii is more than twice the size of all the other islands combined.  It is also the youngest of the Hawaiian islands and the widest of the States from East to West.
The island grows 42+acres every year due the constant activity of the Kilauea Volcano.
Eleven of the worlds thirteen climate zones are present on this one island.
Hawaii is also known as the Orchid Isle. Very nice!
Fifteen miles off the southeast coast and 3,000ft below the surface there is an active volcano named Lo'ihi. It will be thousands of years before this volcano breaks the surface of the ocean, however, it has already risen 10,000ft from the ocean floor and has a crater measuring 3 miles across!
There are many reasons to love Hawaii. Great beaches, the mouth watering food, so many different terrains-which is one thing I love about the Big Island, but there are many islands to visit in Hawaii that can fit your vacation personality. Travel+Leisure published a good article. https://www.travelandleisure.com/trip-ideas/island-vacations/hawaii-islands-travel-guide?
As did a great blog site called https://www.smartertravel.com/best-island-in-hawaii-to-visit/
I would be happy to help you with ideas for travel to any of the Hawaiian Islands, just leave your contact info in the comments section and I will see it. As always, any other great facts about HI or insider tips are always welcome. And remember: Vacation like you mean it!