When you picture the Bahamas what do you see? Sugary white sand beaches, tropical breezes, a wonderful warm ocean, palm trees, relaxation, a place to leave all your worries behind? Of course you do. Me too!
Each year millions of sun seekers swarm upon the idyllic beaches of the Bahamian Islands in search of a wondrous getaway. The Bahamas is an island chain consisting of 700 islands stretched over 100,000 square nautical miles. That's a lot of sand and surf! With its proximity to the U.S., ecological diversity, experiences and personality a Bahamas vacation makes sense. The cruise line industry came up with the brilliant idea of having their own private Bahamian Island to offers would-be cruisers something a little more exclusive. And, boy, did that idea pay off! Who doesn't want to have a beach island all to themselves? Well, you and 4,000 of your closest friends, but still. All the major cruise lines have one, Royal Caribbean and Norwegian have two. MSC is going to debut their private Bahamian island in November; it will  be a true Marine Preserve.
Whether  you dock or tender at one of the cruise lines private islands the food is included, sometimes your drink package-not with all cruise lines, so check the fine print, you key card works for purchases, hammocks, beach lounge chairs, local entertainment, waterparks, etc all included in the fare. The kids club extends to the island so you can drop your kids off. It's a good deal.
So are they all the same? In some ways, yes. Bbq lunches, a myriad of beaches, calm waters, play areas, adult areas, local musicians and vendors, beachy vibe restaurants and bars, shopping and water activities can all be found on any of these islands, but in the same way Nassau is different from Great Exuma each island will offer a few unique things. So, this post is just a basic rundown of what your private island oasis is like.
Disney: Castaway Cay
225 Nautical Miles from Port Canaveral and close to the Great Abaco Islands.
1,000 acres of land only 55 developed for visitors.
On lease from the Bahamian government until 2096.
This is the island where Splash and the first Pirates of the Caribbean were filmed.
Castaway Cay received a Certificate of Excellence from Tripadvisor.
Let's start with the big one.  Obviously, the Disney characters and the Disney theme set this gem of an island apart from others. Enjoy a bbq party with Lilo and Stitch, meet Jack Sparrow, shop for Frozen themed souvenirs, get your picture taken Mickey and the gang. The ship docks so cruisers can walk right onto the island and Disney has a tram to take you around the island. The drop off area for younger kids is the first stop. Strollers, wagons, joggers and special wheelchairs are all provided complementary and each of the 3 seperate beaches offers a bbq area. The water is filtered and cups are provided so you don't need to concern yourself with bottled water either.
With teens, tweens and adults having their own beach area there is something for everyone. Including fishing charters, stingray feeding, parasailing, outdoor massages, cabana rentals and a waterslide that looks like a castle and drops into the ocean. Other than the character meet and greet and one of a kind souvenirs there are few other special things about Castaway Cay.
The 5k run. This is a fun run/walk for all ages and can start anytime between 8:00a.m.-9:00a.m. Runners get to be first off the ship, although not by much according to some recent voyagers.  You can drop your kiddos off at Scuttle's Cove before the race. Even in the winter it is pretty humid so wear clothes that breath. There are 2 water stations, good photo ops on the trail so bring a camera, cast members will cheer you on along the way, it is free and you get a cool certificate and/or medal at the end of the course.
Snorkeling. Every island will have snorkeling but while at Castaway Cay you get to go on a hunt of sort and try to find the hidden Mickeys and other sunken treasure, like an anchor or Minnie Mouse. They are marked with buoys, making them easier to find. It is a large lagoon-22 acres and has 2 entrances. Life vest are required but you can borrow one free of charge. A few tips from cruisers: Bring your own snorkel mask, go early as the water get murky later in the day.
It has a post office! Buy a postcard while on the island but get the stamp on the ship since the post office does not always remain open the whole time you anchored. These postcards can only be found at Castaway Cay. The same is true for most of the souvenirs found at the gift shops. They will not be sold on the ship or any of the parks. She Sells Seashells is the largest of these shops.
Castaway Cay has full time residents. A small group of cast members live year round on the island, which is good for the Bahamian economy. Disney also uses solar panels to fuel the water heaters and the cruise line recycles 7,000lbs of cooking oil each week to power a fleet of Bahamas Waste Management vehicles in Nassau.
Disney cruise line cast members help protect and monitor the endangered Loggerhead Sea Turtle. There  are nests on the island. Sometimes you can see one when you snorkel.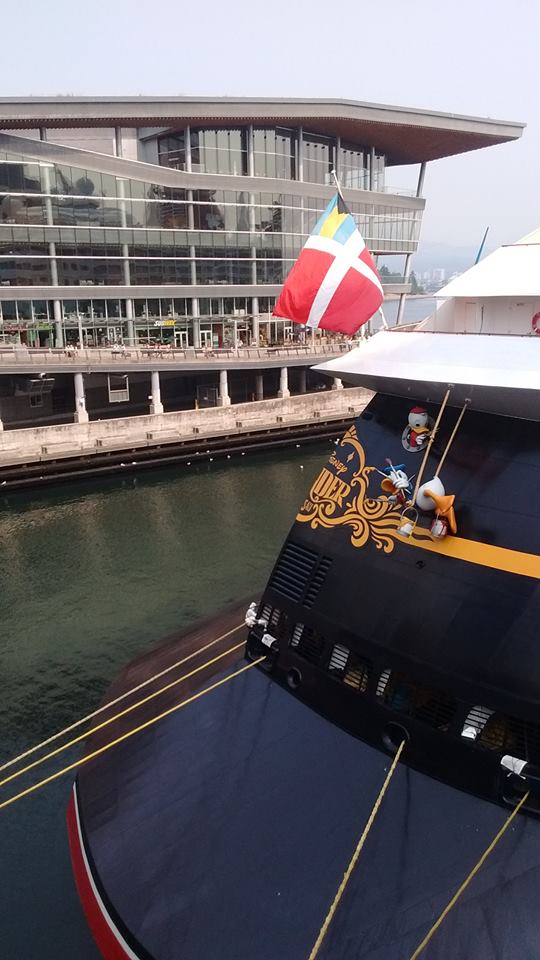 Other Tips:
The bbq lunch is over at 2 at all beaches. The Serenity Bay beach  for adults will offer a few more choices for lunch.
The Disney app does not work on the island.
A lot of the characters will be done by early afternoon. If you want to see Jack Sparrow try to explore early and on foot.
Pelican Plunge is great for kids but you must swim out to it and there is a height requirement and life vests are required-they are free though.
If you go to the Family Beach go first thing. It's the closest beach to the ship and gets crowded quickly!
Your key card works for all purchases so there is no need to bring cash.
It can get windy on Castaway Cay and it's not uncommon for excursions to get canceled.
Norwegian: Great Stirrup Cay
The island is 268 acres and part of the Berry Islands chain.
Visit the southern part of the island to see the remnant of an old U.S. Military base and satellite tracking station
Great Stirrup Cay is home to a coconut plantation
Norwegian was the first cruise line to have a private Bahamas island.
As far as things to do here it's not much different from any other island. You can rent cabanas, feed a stingray, rent a kayak, eat to your heart's content, ride on a jet ski, etc. Great Stirrup Cay has some stand out features though. The island has the most interesting history. Check out this link to read all about the islands past. https://en.wikipedia.org/wiki/Great_Stirrup_Cay
Visit a lighthouse. The lighthouse was originally built in 1863. Today it's solar powered and is fully automated. The structure is 80ft. tall and it's light can be seen for 20 miles.
Go bird watching. You can spot gulls, frigates and sanderlings, you might also spot lizards, black iguanas and land crabs just hanging around the beach with you!
Snorkeling is great here because is has an underwater sculpture garden. That sounds very fun!
It has a coconut plantation. Great Stirrup Cay has many a coconut palm so expect to find a lot of recipes using coconut meat or the milk. Sea Grape is another common fruit bearing tree on the island.
Go on an eco boat tour. This narrated tour lasts about an hour and is great for seeing stingrays, sharks and other marine life in their natural habitat. Other highlights are the mangrove estuary, seeing the caves in the area and the 250ft blue hole.
Other Tips:
Bring cash. Norwegian's private island boasts a great straw market but it is manned by local vendors and they take cash.
There are plenty of hammocks so don't worry about missing out.
Great Stirrup Cay is designated a marine life sanctuary and you are not allowed to remove anything from the water! They are serious about this!
In 2019 the cruise line is spending millions of dollars to upgrade the lagoon, the family beach and the villas. The villas will be 1 and 2 bedrooms and the island will get a ultra modern reception area.
Carnival and Holland: Half Moon Cay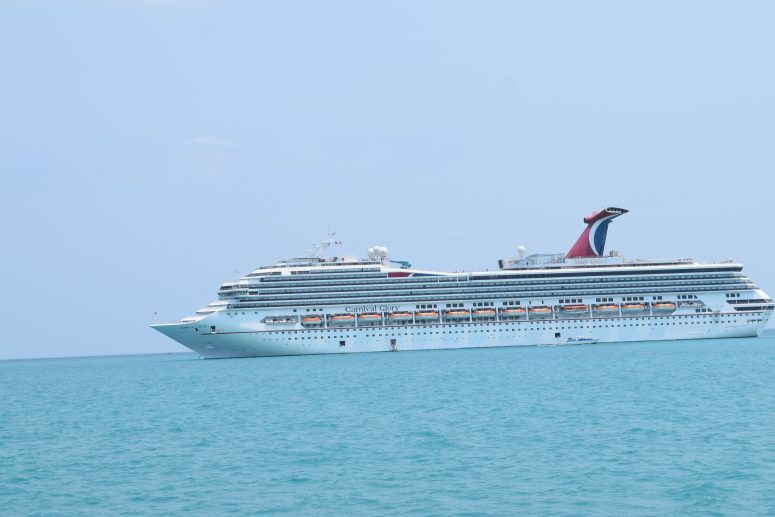 This slice of paradise is 2,400 acres but only 50 acres have been developed.
Porthole Cruise Magazine has continuously said this island is the Readers Top Choice.
Half Moon Cay is 100 miles SE of Nassau and used to be called Little San Salvador.
You will tender in as the waters are to shallow to allow the ship to dock.
The name Half Moon Cay comes from its 2.5 miles of white sand beach that curves outward on both ends. 
Even among a long line of sugary beaches bathed in sunshine Half Moon Cay is one of the favorites of cruisers. Visitors to this island rave about the crystal clear turquoise waters that one can see through forever, pristine beaches, beautiful flora and fauna that make this a standout amongst its peers. So what are some not to be missed things that make this island special?
Horseback riding. This adventure is not uncommon in the Bahamas but the Pegasus Ranch excursion takes its riders to the highest point in the island that affords stunning scenery and then you get to ride into the waves! Sign me up! One note-riders are required to wear long pants and closed toed shoes.
Kayak Bonefish Lagoon. This protected habitat is 1400 square acres and is a great place to see some of the 47 different species of birds as well as red mangrove and silver buttonwood trees.
Dance with the Calypso Band. Music on this island is fun and festive, so enjoy!
Shop for locally made jewelry. Clamshells are farmed there and you can get a locally crafted pearl ring custom made for you right there.
Captain Morgan's Bar. This bar is in a ruined pirate ship and that is cool!
Get married. This island has an American style church, it must be reserved ahead of time.
The kids love the Lagoon. This kid friendly playground sports plenty of ocean themed toys, pirate water cannons and a large fully equipped playground.
Other Tips:
Half Moon Cay does have a convenience store for things like sunscreen, snacks and soda.
Although there are plenty of sun loungers there are large stretches of beaches with NO palm trees or shelter. So watch the sun or if you have money to burn rent a cabana. You can get a 2 story one complete with a/c and a butler!
Your drink package will not work here.
This island has a post office where you can get a Bahamas postcard and stamps.
Massages are done by professionals from the crew and the cabana is air conditioned.
Due to its altitude rain is not uncommon, neither are thunderstorms and strong breezes.
Princess: Princess Cays
This is not a private island, rather, it is 40 acres acres on the island of Eleuthera located on the southern tip.
For shopping there is a mix of local vendors and official Princess shops, so bring cash.
Your drink package will work on the island.
Due to the rocky and shallow shore the cruise line will tender you in.
There are adult only cabanas you can rent.
For the most part, it seemed that cruisers took the opportunity to lay about a beautiful and warm, but not too hot beach. Visitors also were happy with the amount of shade provided and the variety of bars and even though lunch is over early there is a fresh fruit bar. Being part of a large island though does give Princess cruisers some advantages.
Tour the local villages. Book an excursion that takes you through the nearby villages like Tarpum Bay and Rock Sound. This excursion will include an adventure through the Cathedral Cave and the Blue Hole-referred to as a bottomless hole.
Dune Buggy Adventure. See church ruins, trek in the jungle and drive through a secluded beach with a lighthouse! It does seem to be the most popular, but, it is a rough excursion-truly off road.
Leon Levy Plant Preserve. This plant and garden preserve was Eleutheras first national park and is over 20 acres including impressive wetlands.
Go surf fishing. A local expert will take you on this excursion.
Other Tips:
Princess is owned by Carnival so expect to see Carnival ships there; I don't believe they are there at the same time, but I am not positive.
Princess Cays is very rocky in places. Both in the water and on land so bring good shoes.
This private area is a good spot to find yourself surrounded by pink sand too!
The time spent here is short so if you have been to this stop before maybe stay on the ship.
Royal Caribbean/Celebrity: Coco Cay
Also called Little Stirrup Cay, this is little spot of heaven is only 1 mile long and 200 meters wide and is part of the Berry Island chain.
For now cruisers are tendered in but it's pretty seamless.
A lot of construction is still going on with most being completed by May of 2019 but the over the water cabanas and Coco Beach Club are slated to be open in December 2019.
Your drink package is good on the island-just don't forget your seapass card!
You have to be scuba certified to go on the scuba excursion the max depth is about 40 ft, so it's shallow.
Royals sister companies Celebrity and Azamara also have access to the island. Although, I am not sure how often Azamara uses the island.
Coco Cay is a big project for Royal, costing $200 million dollars. A representative I spoke with at RCI said by May 2nd 2019 the dock should be open for people to walk off the ship.  Most of the excursion are available such as jet skiing and snorkeling, scuba diving and floating mats,etc. By the time construction is done this tiny island will be packed with a whole lotta WOW's, including:
A 20,000 square foot aqua park with a floating obstacle course that should be completed by March 2019.
Over water cabanas-no one else has this.
Thrill Water Park will have 13 water slides
The largest freshwater pool in the Bahamas as well as the largest wave pool
You can take a hot air balloon ride
Snorkel by a sunken pirate ship, the children aqua park is also a pirate ship structure and located right next to the welcome center.
The island will have glamping teepees and those little plastic ball things you can roll around the lagoon in.
The list goes on and on and on forever. Despite all the construction people didn't feel that intruded upon. There was still plenty of activities, great food and quiet beaches. There are some things to keep in mind about Coco Cay like not all the areas are free. Coco Beach and the Thrill Water Park charge a fee, either all day or half day. There will be plenty of places to play and relax for free such as Splashaway Bay or Oasis Lagoon.
By going to Royal Caribbeans site you can see the island map and see all the cool stuff coming your way. It's an interactive game and it's fun but it will not tell you what is free, what's not or how much the extras cost. https://www.royalcaribbean.com/cococay-bahamas-perfect-day-island/overview
MSC:Ocean Cay Marine Preserve
MSC is family owned cruise line and has 800% growth over the last nine years. MSC stands for Mediterranean Shipping Company
It's not built yet! So, unfortunately, this purpose built island has had her premiere date pushed back until  November 2019.
Ocean Cay will be the closest private island to Miami-65 miles east.
It will be huge! The island will be 95 developed acres and over 11,000 feet of beachfront magnificence.
The island will provide 140 permanent jobs for locals.
The aim of MSC to make their private island stand out is to embrace the ecological and marine life factor. There will be a real marine research laboratory that will study climate resistant coral-which you will find on the island and a coral nursery. The cruise line will offer up some educational courses and tours. They will also recreate a Bahamian village with 100 environmentally friendly structures. What else can a visitor expect to experience at this blissful local?
Late night stays. MSC does this right! The biggest complaint from cruisers is that the party doesn't last long enough. Since this place is so close to Miami cruisers can expect to stay til 11pm or even 1am. So you can catch a show at the cinema, party all night at the lighthouse, eat at the food trucks at the marina late at night.
No tendering, you can walk off the ship.
The cruise line provides an electric cart service to get you around the island.
More than just a buffet. MSC will have a variety of food trucks, ice cream carts and coffee carts around the island.
With 7 different beach areas there is no end of choices for everyone.
Take a boat to one of the smaller deserted cays nearby.
I am really rooting for MSC to hit this out of the park. They are working with the Bahamian government to have a sustainable and ecologically responsible experience.  I love that they stay all night and offer so many choices! Such as a food truck that serves Conch Fritters and that there will be an old shipwreck nearby to snorkel around.
Other Things to Know:
Yacht club members get their  own beach, massage center and private bungalows.
It will have a 2,000 seat amphitheater, perfect for movies and other entertainment!
The same marvelous spa treatments you experience on the ship you can enjoy on the island.
Kids will love the floating submarine attraction; thrill seekers will want to try parasailing-that is definitely on my bucket list!
By staying late you can enjoy a sunset sail excursion or night time glass bottom boat tour.
Whew! That was a ton information I just threw at you and it's a lot to think about, but wait, there's more! That's right, the Bahamas are not the only place that the cruise lines have conquered.
Royal Caribbean has a private island in Haiti and Norwegian has one in Belize. So, that will be a blog for another day; a shorter one too. I am tired and I am sure your eyes hurt but I have been wanting to do a comparative type of article on the cruise lines private islands for a while now. I feel that even though the basics are the same that each island has a few things that make it special; much like the cruise line itself.
If you are interested in one of these islands as part of your next cruise please visit me at my travel agent site https://www.cruiseshipcenters.com/en-US/RhondaWeaver  or email me at rweaver@cruiseshipcenters.com.