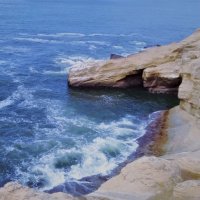 If there's anything 2020 has taught us (besides not wasting money on planners) it was how much we want to connect with people and places.  Despite being a travel blogger and a licensed travel agent, I don't travel as much as other people I know, and certainly not much as I would like.  There are many reasons for this, time off of work, prior obligations, the inability to pick a place and family matters.  However, I still wanted to go to the beach, go on a cruise, go to Canada and probably California.  And then, Covid-19 came and that was that.  No cruise, no train to Canada and I don't see me going to San Diego anytime soon.  Like most of you, I don't want to expose myself or my family members to a disease, so I planned on staying home and I did stay home for a long, long time; at least it felt like forever.  I'm sure we all have felt that way!  But, some people are traveling to places, some are being mindful and strategic about it.  So, myself, my darling husband, my sister and our Mom decided we can do that too!
My heart belongs to the sea, and luckily enough, my family loves the beach as much as I do!  The love of the ocean makes sense.  It is both forever changing and always constant, shining and golden while also dark and unfathomable, brimming with life, yet so deadly.  Quite and calm at times and other times lashing in unstoppable fury.  The ocean in a song that thrums in the veins of some of us and I feel that during trying times, it's healing to get back to a happy place.
Safety and Lincoln City, Oregon.
While Lincoln City, Oregon is a popular tourist spot it's also a city with many miles of beach, separated into several different beaches with wide expanses that allow visitors to enjoy the waves and surf while staying far from each other.  Check out the map below of Lincoln City. OR. for a glimpse of some great surrounding areas.
http://www.paulnoll.com/Oregon/Tourism/Coast-Lincoln-Walport/D-River-map.html
Downtown Lincoln City was bursting with tourists, even during a pandemic. Many restaurants don't enforce social distancing while waiting for your table and beaches in the city limits are jam packed. So when planning a stay in Lincoln City think about beaches that are likely to draw large groups. D River Wayside is in the middle of town, has ample parking and is beautiful. It was also filled with tourists as was the mall and Otter Crest Loop and beaches close to Inns and hotels. But, don't give up or think you need to ditch the beach. Places like Agate Beach, Taft Bay and Roads End have wide stretches of sand that will let you social distance.
Places That Are Bursting With People:
The Mall. The Lincoln City Outlets were largely open with protocols setting limits to how many people were allowed in a store at one time and masks are required. However, walking around, you'll come shoulder to shoulder with a number of people.
Some shops and restaurants. One of my favorite shops is the Christmas Cottage, it's brimming with everything Christmas. You can't actually take in everything; it's so much, but I love it! At this shop they had capacity limits and a mask mandate, the chocolate place next door had a mask mandate but no limit of how many people could come in. Some restaurants remained closed during the pandemic or only had carry out, but several were open and it was a toss up of who was limiting seating and who wasn't. For example, we ate at Kyllo's; a seafood restaurant in the middle of town. We had to wait outside with at least 10 other people and there were that many waiting inside. The tables in this restaurant are far apart but the place was completely full and there were several large groups.
Some tourists spots. Because of some spots being closed to the public the ones that were open were flooded with people. Like myself, they wanted to see the sweeping views, interesting rock formations and striking cliffs. Otter Crest Loop, for example, is stunning and it's a popular place for surfers. It has a majestic beach area and fantastic photo opportunities. Otter Crest Loop was not a place to escape crowds. It was people, people and more people! We kept our masks on and just enjoyed the beauty of the scenery!
If you feel comfortable with people you shouldn't miss Depoe Bay, the worlds smallest navigable harbor. All the shops sit on one road as you drive into town, a rocky seawall is on the other side. Whales are there all year round and the coast guard ships sail in and out. It's a wonderful experience, but since it's always crowded simply because of the layout.
We went with an Airbnb and stayed in some condos, right on the beach with stringent cleaning processes. These extra cleaning measures definitely cost-a lot! The cost of our place went up by almost 25%. However, I feel that this is a good option as it gives you more space and the beaches tend to be less crowded. If you can find condo's or townhomes that are out of the city limits or between Lincoln City and Depoe Bay our between Newport and Depoe Bay chances are you'll find you naturally have less people around you. Gleneden Beach and Agate Beach are large and wide areas that you could explore and keep outside contact to a minimum. Agate Beach is one of my favorites because the beach is so wide and accessible, with clean sand and less debris than other Lincoln City beaches. It goes on forever!
Bandon: Small and Great
A few months later we traveled to Bandon, which is pretty far south. The town of Bandon is actually really small, but the setup is smart. Historic Bandon is a small section that's easily walkable, parking isn't hard and all the shops are quaint and concentrated in one area, so there's no way to keep 6ft distance from everyone all the time; especially the restaurants. Downtown Bandon has a small harbor and the little shack restaurants are sooo good, but small and people don't social distance in a tiny restaurant. People were sitting outside on the patio in spots that were supposed to be closed off, and along the marina no one donned a mask. However, along the boardwalk area that's alongside the marina there were plenty of benches that were very far from one another. Another wonderful thing about Bandon it's is beaches. Not only are they breathtaking, they're huge! So wide and ridiculously long, Bandon's beaches are worthy of an all day stay! We drove to Beach Loop Road and followed it to the scenic lookout spot and the beach there is also a State natural area. It's a steep walk down and back up, but it's so worth it! Such beautiful rock formations, haystacks, a cave with a little key hole and many days you'll spot seals sunbathing or swimming close by. I must've taken over 100 photos. It's not as windy as some other spots, as it's deep down and has sea cliffs all along the beach. Fog rolls in and out quickly, but on clear days you can see for miles.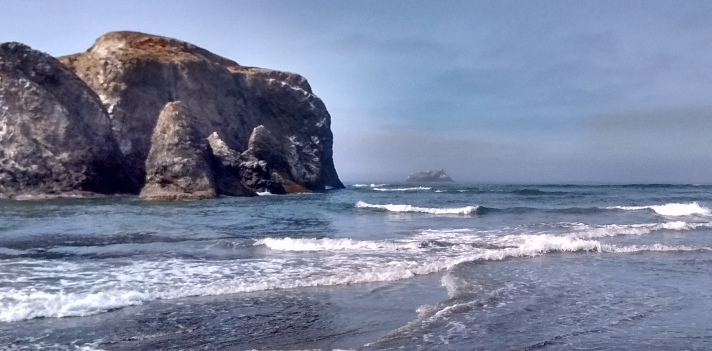 Bandon also has a State Park Beach, Bullard State Park Beach and the Coquille River Lighthouse, it's less than 3miles from town. It's another impressive, clean, wide beach that you could wander up down for hours.
One thing to remember about Oregon Beaches is that the waves will break far out and be soft but randomly and out nowhere a strong wave will rush upon the land and pull itself back out quickly. We call them sneaker waves, people get pulled out on these waves every year and some die from it. Respect the ocean, don't turn your back on the water, even in lowtide sneaker waves can pull you out to sea in the blink of an eye. Bandon and Lincoln City are incredibly wet and windy during fall and winter. I lived at the Oregon Coast for 10 years and sideways rain is real thing.
I recommend the beach for vacationing because you can social distance, spend time outside, connect with nature and just decompress. Camping and RVing are also great ways to travel to the beach. While most places are open for RVing and camping many of the facilities and common areas are staying closed. So, research these areas to make sure they have what you need.
At the end of the day, you need to evaluate your priorities, maybe make a list.
Do you want a place close to town and the attractions or do you need more space and ways to isolate? Ask the hotel if they have touchless check in and payment procedures.
Do you feel comfortable going to restaurants and shopping centers?
Are you good with a hotel or do you want to opt for a home or less populated area to rent something.
If you camp, do you need one with community areas or do want a large space with no neighbors.
The later months bring less crowds and give you more favorable rates. Likewise for weekday visits. Also, make yourself a travel bag that has all the cleaning supplies you need. We brought our own pillows, hand sanitizer and extra masks. Make sure you have packed any supplies you need to feel safe and protected. I use the soap at the places I stay because they're always new and I don't bring cleaning wipes, but some people do.
At the end of the day you need to find that happy place where you can be out and have fun without comprising your health. I wore my mask, washed my hands, stayed in a condo out of town by a wonderful beach and went to a little French type cafe and had a marvelous time. We even saw someone get married on the beach.
If you feel the need for a getaway, the beach is great, because you have so many options at Oregon Beaches. It's a stellar option for those who need to get away but don't want to be in a high risk environment.
Please feel free to reach out to me for questions. These cities have advisories where you can see what's open and what protocols are in place.