Cruise destination vacations are one of the most popular ways people choose to spend their off time and for good reasons.
Variety:
There is no end of entertainment, activities and food options. In one place you can watch a broadway show, try Pina Colada soup, go gambling, get a massage, watch a movie under the stars, learn about a culture,shoot down a waterslide, play mini golf and enjoy wine tasting all in one day! Or lay around and do nothing. Everybody loves choices. This is especially true for families or multi generational travelers. My boys like the dance clubs, waterslides, laser tag, etc. I like the water slides but I want to see art, sip champagne and lay in a lounge chair and have a pool boy bring me food. On a cruise you really can have it all.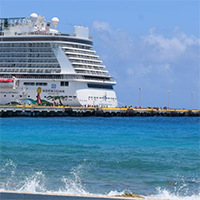 Ease Of Travel:
Unpack once and done. Also, if you are going to go on excursions someone picks you up and drops you off (mostly) and one of my favorite things about cruising is that I can see multiple countries without having to deal with the logistics of getting there. If I find a place I love I can plan a vacation to go back there for a longer visit.
Escapism:
Being on vacation is largely about getting away from it all and it's hard to feel more away from everyday life than being on a cruise! Limited WiFi (although that is changing) the open sea, no cars or interstates, no fast food chains. A cruise becomes a community seperate from the rest of the world; whether you are on river or ocean cruise,  whether the ship is big or small.
Being Out To Sea For Days On End! 
Well, duh! Enough said.
On the other hand, most new cruise ships are HUGE! Giant floating resorts that hold 5,000 people, 20 decks, tiny cabins, looonnng waits for the elevators and almost too much going on at any one time. It can be intimidating. I have been lucky enough to sail on many types of vessels; sightseeing sail boats, ferries, old fashioned  pirate ships, whale watching ships, catamarans, canoes; you get the idea but I still love ocean cruising the most and have learned some things through trial and error (mostly error) that I have jotted down and I hope they help you get the most from your next cruise. If you prefer a more intimate sea faring experience there are still plenty of options for you to get the vacation you want and I believe these tips still hold value.
Be Organized. This will help you from the planning stages all the way through to disembarkation. Being organized will help you be efficient as well. Start with must haves. Documentation is the single most thing you need. Passports, Visas, your boarding pass, id etc. Have a safe and easy to reach place for these things. Call the bank to let them know you are traveling, making sure you have enough medications for the entire trip, have a hard copy of all your shore excursion and/or reservations.  I make a checklist and put reminders on my phone for things I know need to do. Like the online check in. Doing the online check in helps you get through the line faster. You will have your boarding pass, you will know your boarding time, you can alert the ship to any food allergies, special occasions. You can reserve shore excursions, specialty dining and spa packages. The site will let you know any luggage restrictions as well as information about drink packages. For Carnival if you pre-buy your drink packages and wifi you get a discount. You can also find deck plans and a list of what amenities the ship has.
How to pack smarter. This is a hard one for me, and a lot people probably. I have learned how to roll my clothes tight, to put my necklaces through a straw, put my socks and belts in my shoes and the value of ziploc bags and most important, not to overpack. When you travel you know you are going to buy things anyway; so don't pack half of what you own. It's another of those checklist things. Am I going hiking? So I need good shoes and bug spray and sunscreen; do I need a cute new hat and a special "hiking shirt"? No, I do not. Shop early for travel size toiletries too. Those can be pre packed. Anti bacterial wipes and air freshener for that tiny bathroom are must haves. Don't forget that your bags get taken to your room and you don't go to your room for a while sometimes for better than an hour. We always have a small backpack with our bathing suits and sunscreen because the pools are open. The only things that aren't open right away is the Casino and the shopping. So keep a easy to carry bag with you while you wait to go to your room, esp. if you have medications you have to take. I also keep a water thermos with me so I can refill up water whenever I want. Bottled water on a cruise ship is not free on most major lines. The last night of your cruise you are required to leave your luggage outside the door so it can be prepped for disembarkation.  Keep things you need with you in the morning in a small bag, just like when you first board the ship.
Shop around for Shore Excursions. I love saving money! Who doesn't right? For this reason I start shopping around for shore excursions  early. First, go on the cruise lines website and see what they sell and how much it costs then do your own research and see if you can get the same thing for less. There are a few things to keep in mind and the most important one is to make sure the vendor you are booking with is reputable! Get customer reviews, call them if your can, find real pictures not the ones on the website. Make sure the excursion includes all costs and if they will pick you up and take you back to port and how long it is. For the most part we book our own, there are times booking with the ship is a good idea.  If the excursion is far from port, lasts a long time or is in a truly exotic port. Also, if the cruise line specializes in that particular city or if the excursion comes with risks, i.e. helicopter tours, parasailing or float planes. Cruise lines will put your safety above all else and they vet the vendor so you don't have too. While we were in Cabo we had to tender to port and I booked the excursion with the cruise line because I got to be on one of the 1st tender boats off the ship, it saved me a ton of time. Other than that I book my own especially if I am staying close to port or just hitting the beach or shopping.
Know yourself. Being on vacation can be liberating! A chance to unwind and try new things and you absolutely should! But, you are still you at the end of the day. If you can't walk 3 miles at home don't plan a 8 mile hike; you won't have any fun. If you don't like musicals don't go to the theater for a 45 minute musical show. Prone to seasickness? Maybe don't book a cabin on the very front on a high deck, and don't book a guaranteed cabin if you are picky about where you sleep! You will most likely be disappointed. Not a gambler? No problem, go to the spa. I didn't book a Mayan Ruins tour because it was going to be 98 degrees that day and I am not into a group tour listening to a guide, I went to the beach came back early and hit the pool. The ship was not crowded and it was great. I do try new foods and new activities but I know my limits. Well, sort of. I did try to hit the party deck on NCL's Getaway every night, which I am not really cut out for and the last day slept until 11am. Oh well, it was probably worth it.
Watch the upsell. There are things on a cruise line that are not free, such as drinks, spa treatments, specialty dining. There is always someone trying to get you to buy more things.  So you have to know what is free and what isn't before you go. The ship planner will let you know what food is included and what isn't. A lot of cruise lines will offer discounts on specialty dining if you book the 1st night or will offer a lunch menu for a reduced rate versus the regular night time fare. Drink specials abound as well; again check the planner for drink coupons, happy hours, go to the art auction for free champagne, listen for what shop offers free mimosas, look for the bartender shows and events you can score free or reduced drinks. Same thing for Captains Dinner. For the spa book treatments on port days because the cost for the same thing is reduced on days the ship is docked.  If you are big drinker or want to book a week at the spa pre buy at your online check in or the 1st day on the ship. Again, check out the package specials on the website first and make sure you read up on what is included in your package and what is not. Departing out of TX? Your drink package does not apply til the next day. You can still buy alcohol but it is limited and must be in compliance with TX state law, New York has similar laws. If you are booked in a suite or are lucky enough to have booked a special fare that includes drinks, or even better, are able to afford a luxury cruise line or a river cruise this would not apply to you. Good job and drink on!
The Ship Planner is your best friend:  It is always in your cabin and you get a new one each day. In it you will find all the activities, when they start, what they are, what deck they are on and a brief description. It will give you schedules for shows, guest lectures, and any drink specials. Basically, anything you need to know not only about the ship but the ports of call. Times you will be in port, some points of interest and what time you need to be back on board. The planner makes a great souvenir.
Maximize your time. Be early, but know that you will board by sections. If you have a suite you will board earlier or if have a certain loyalty status; or for Carnival you can pay for a "Faster to the Fun" pass. Book those early, spaces are limited and they sell out fast. When you first board you can go to the pool, eat and drink and check out the specialty dining and get a good feel for the ship.; but you can't shop or gamble. If you can book a later flight off the ship I would highly recommend it! The cruise line will assign you a disembarkation time but if you are asking to leave later I have never been turned down for changing time to later. I sleep in and have leisurely breakfast, and walk the promenade one last time. It's pretty nice, and it makes disembarkation a little less hectic because the people in a hurry have already left.
Ships have personalities. Not all ships nor cruise line are created equal. If you are looking for longer times in port or more authentic experiences? Azamara, Windstar and Regent are among some of the top ones and usually are very inclusive-and extremely expensive! Princess and Oceania are a good mid price option. The reason is simple. The more time they are in port the less money off the guest, but with the higher end cruise lines the client expects more. If you are looking for jam packed itinerary and endless entertainment and food options, try Royal Caribbean and Norwegian and the newer MSC ships. These ships are floating cities. Are you a culinary explorer? Celebrity cruises sweeps accolades from cruise critic. Viking gets top marks in the small ship category. Check out this link from an earlier post I wrote about cruise ship personalities. https://roamingredfeather.com/2018/04/17/how-to-find-the-right-cruise-vacation-fit/
Don't be afraid to ask for more. At the dining room you will get a menu offering a 3 to 4 course meal. Don't be afraid to be ask for 2nds, or 2 appetizers or desserts. When we were on Carnival the ship was sold out and my boys (teenagers at the time) got 3 servings of lobster and we each got 2 desserts. On NCL my husband couldn't decide between 2 appetizers so she brought both.  We have even had a waiter go to a different bar to get a drink I really wanted. Remember, this is a courtesy and not normally allowed. The staff will generally do whatever they can do to make you happy, but please, ask, don't demand and understand if they can't. For most ships room service is free but some cruise lines charge a  delivery fee. The daily planner will include any charges. The staff work very hard with almost no days off for way less than we would ever be paid; so don't hesitate to ask for what you want but be always be nice and tip generously or give good reviews or both.
Fun Facts:
Your cabin is magnetic. Carry on some magnets and you can stick your cruise planner, coupons, notes, etc to the wall.
Some cruise lines offer extended stays that include hotels, sometimes meals, day trips and transfers to the ship. For example, Princess offers many opportunities to extend your Alaska vacation.
Set dining times are a thing of the past. While most cruise lines still have the set dining times almost all offer a flexible dining time where you can go to dinner wherever and whenever you want. This is one of my favorite things. If I wanted a schedule set for me I would have stayed at work.
You can get married on board. Cruises are romantic and cruise lines offer a fair variety of options and budgets. Some of the most popular ones are Princess and P&O Cruises.
Cruise ships have a jail. Okay, so maybe this one isn't fun, but it is important to know. Security and safety on a cruise ship is very important. So behave or get sent to the brig until you get to the next port or to the home port where you will be handed over to the port authority.
Your ship may leave without.  Yes, I know, not fun either. I am really off track now, sorry; but still important. If you are late coming back after the ship schedule says you need to be back be prepared to be stranded. Especially if you didn't book with the ship. If you booked a tour with the ship and something happens-i.e. the tour bus breaks down the ship will wait for you, but that is about the only reason.
Look under the bed. Ship cabins are not very spacious but you can usually find extra storage under the bed.
The water is filtered. I love ice cold water but I don't want to pay for bottle water; I don't see the point. I pack a stainless steel water bottle and there are water stations all over the ship. The water is filtered under the regulations of America and Europe.
Cruise Critic is one of my favorite sites for reviews of ships, destinations, ports, excursions and whole array of useful tips. Plus, you can find a page called Roll Call it lets you talk to other passengers on your specific cruise. You just have join and enroll it's easy and free and very useful. You will have friends before you even start. https://www.cruisecritic.com/
You can also click on my travel agent Expedia Website to see some cruise options out there. You can search by date, destination, cruise line etc. https://www.cruiseshipcenters.com/en-US/RhondaWeaver
Happy Sailing and as always another insights or tips or stories you have learned the hard way are always welcome.