My husband and I have been going to Bainbridge Island  for  about six years.  It is a quick ferry ride from the Seattle Waterfront.  Pier 52, the Coleman dock; 801 Alaskan Way, 98121. The ferry runs every hour or half hour and runs all day and most of the night. The ride over to Bainbridge is about 30 minutes. Link to the ferry schedule  http://bit.ly/2eLo7DM
The view leaving Seattle is pretty great. The Puget Sound is beautiful. You can see the cruise ships, the space needle and the mountains.  No matter how hot it is out on the water is always cool.  The Seattle Ferries are large with different decks, many viewing areas. Some are sheltered too for windy days. They do have a snack/lunch counter.
We always walk on, it's really convenient and easy.  Once you get off the ferry you can walk into town in about 10-15 minutes. Just like Seattle, Bainbridge is a slope. So walking there is easy, going back is all uphill. And  Winslow Way is a long street, so getting from A to B  is a trek if you have mobility issues. The other main street is Madison-it runs down to the waterfront.  Right off the ferry there is the Waterfront Park and Trail. It's not terribly uneven or a hard walk.  There is a bike rental close to where the ferry docks.  http://www.bikebarnrentals.com/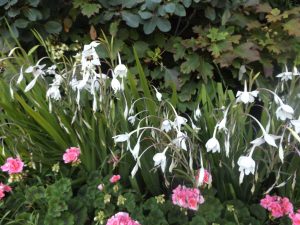 People who would enjoy the picturesque town of Bainbridge:
Photographers-especially if you like flowers. Bainbridge has many different types and floral and fauna everywhere you look. Many of which are not local but varied and charming. In fact right before town following Winslow Way they have a nature/sculpture area that fits in nicely with the vibe of the island.
You want to feel like you're away without having to go far away and don't have a lot of time. Bainbridge feels far away and secluded and laid back but it is easy to get too. It's perfect when I just want to go somewhere quiet and pretty and don't have vacation time.
You like dessert. Bainbridge does not have a whole row of restaurants close together and very little seafood places. Which is surprising considering the Marina is right there, but that's okay because they have plenty of places for anyone with a sweet tooth. And I certainly do! Mora Ice Creamery is probably my favorite. They have so many great flavors. Mexican chocolate, mint shaved chocolate, Irish coffee, even marsala wine custard. The place is always clean; seating is limited. There are at least 3 bakeries, we usually go to Blackbird. Another must visit is Bon Bon confections. It's a candy and fudge shop but the real treat is that there is an entire wall of different chocolate bars from around the world. All types and flavors from Argentina, Brazil,  the Congo, you name it. Many local chocolates too like Theo and Seattle's Best Chocolate.
You're mindful of your budget. I can spend the day in Bainbridge get great photos of beautiful flowers, walk around the Marina, go to the Museum of Art which has free admission, get some ice cream and go home. If you want some great gifts the island boasts a pretty cool lavender store Pelindaba Lavender http://bit.ly/2uydx6R 
So, if you have a day in Seattle and don't want to do all the ultra-touristy things and/or you are in town for a cruise and have spent a ton of money already Bainbridge will fit your needs.