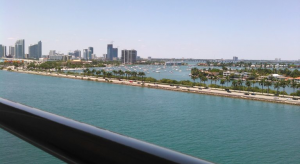 We all want our cruise vacation to be amazing and we want that from the very beginning. So, to start your vacation you want the transfer from the hotel or airport to be seamless and hassle free
Cruise lines do not pick you up from your hotel, unless you buy the land portion from the cruise line. Some hotels will bring you to the pier for a cost.  Other than that cruise lines sell transfers from the airport to the ship and back. You can do one way or round trip.  It can be expensive and a Lyft or Uber is usually cheaper. However, there are times paying for a transfer from the cruise line will be wise.  Also,  a transfer with the cruise line can give you peace of mind. Once you are on that bus it is up to them to get you to your ship on time.  If you take your own transportation and you break down or get lost, then wave goodbye to your ship as it sails off without you. Below are some other times a cruise line transfer is worth the cost.
The cruise terminal is far from the airport.  If you're cruising out of Rome, it's about an hour. Both LAX and SEATAC (Seattle) are about 40 from Long Beach Pier and Smith Cove Pier. However, to hail a cab in both these airports you have to exit baggage claim and cross the street, plus both places have endless construction. Cruising out of Galveston Hobby Airport is 45 miles away, while Bush Intercontinental is 70 miles away. Flights get delayed too.
You don't get in very early. The ship wants you there 2-4 hours early. Everyone is expected to be on the ship 90 minutes before departure. On our last cruise we were only a 2 1/2 flight, but we got delayed by 45 minute. After landing we taxied around the tarmac for another 20 minutes waiting for  a gate to be ready for us. I'm talking about LAX, it was a zoo. I'm glad we took advice from other cruisers who have been there and paid for the transfer. It saved my butt!  The airport is not easy to get around, you have to go out of the terminal cross under the bridge and head out to the street. We  made the last transfer bus to the ship. It was great though. They took are luggage and brought right to the door; no waiting.
You don't know what to do with your luggage. A lot of airports like Miami International, LAX and Galveston do not offer storage lockers. If you have a transfer as part of your cruise you will go down to baggage claim and find you rep. there. They will take your checked bags  and you are free to go eat, shop, explore or whatever.  They will give you a time to be back. Most cruise lines require that you book your transfer at least 3 weeks before sailing. However, if there is room on the shuttle bus you can buy your transfer the day of the cruise. Just go down to baggage claim and ask.
You just want the easiest option. You get to pull right up to the front, someone takes your luggage and away you go right into the terminal. Easy, breezy.   Well, there is still Customs, but there is nothing anyone can do about that.
There is a large group of you. When coordinating a large party easier is usually better. A vacation is about relaxing, the logistics of getting everyone to the pier can be a headache.
Returning home: 
There is not a lot of time between your disembarkation and your flight.  First of all, DON'T DO THIS! It put's a lot of stress on you. Also, if your flight isn't at LEAST 4 or 5 hours after disembarkation you won't get your transfer. Remember, it takes  a while to get off your ship,  at least an hour; I would count on longer.
You want to  be off the ship early.  If you don't want to get off the ship with the masses, this in one option. You will have an earlier departure time and a separate  area to  wait.   Full disclosure, I have never done a transfer off. I want to sleep in and stay on as long as possible.
You want to still feel a little pampered. It's true. It's easy and convenient.
Other than those reasons I would opt for your own ride. When got off at the Long Beach pier on our last cruise our Lyft driver was there in 25 minutes, got us to the ariport in about 35 minutes and only cost us $22.00.    We had a late flight, so I asked if we could be in the last group to get off the ship.  We slept in, had a leisurely breakfast, hung out on the aft deck and enjoyed the weather.
Another option might be to plan an excursion post cruise. It's usually early, like 7:30 or 8:00 a.m. but your luggage is taken care of while you do your tour and the return to the airport is included.
Saving money is important, but missing your cruise is a huge waste of money; and heartbreaking. So, choose wisely.